I used to wonder where all my salary goes but today when my beautician charged me more than 1000 bucks for just a simple manicure and pedicure, I could actually calculate the entire amount I spent till date on my parlour sessions. The job she did was great but still, spending that amount of money made me rethink my decision of going to parlour in the first place.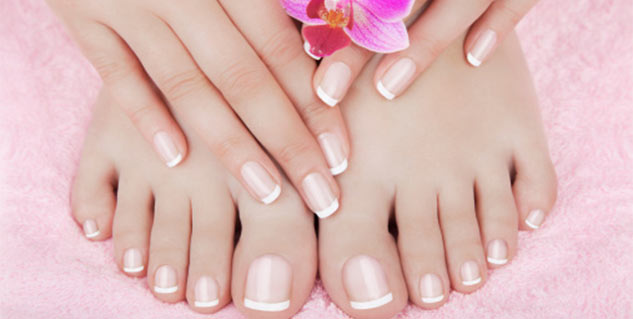 "Do I really need manicure and pedicure?" I asked myself and then I realised that I was born quite an ugly pair of hands and feet. So, I dropped the thought but still per month spending such money seemed a bit too troublesome.
However, soon to my rescue my friend gave me this amazing idea of doing pedicure and manicure at home. She herself did it at home and her feet and hands looked way better than mine. So, it meant her home manicure and pedicure were far better than parlour sessions.
I too started doing it at home and not only it saved me money but also it was way better than my pedicure and manicure sessions at parlour.
The best part is that all the things are easily available and the process is really simple.
For a manicure, get…
A base coat, nail polish (suiting your complexion) and a clear topcoat
Step by step guide to do a manicure at home
Step 1: Remove the nail polish with the nail polish remover.
Step 2: Take a small tub and fill it with warm water. Add shampoo to the water.
Step 3: Now soak your hands in the warm shampoo water for half an hour.
Step 4: Now, gently take the toothbrush or a scrubber and scrape off the dead skin. Rub the brush gently around the nails.
Step 5: While your skin is still wet, take some scrubbing agent and exfoliate your hands.
Step 6: Wash off with warm water. Dry them with a soft towel and while your skin is still wet and soft, remove the cuticles. Shape your nails, cut your nails with a nail cutter and give them your desired shape with a nail-filer. With buffer, make the surface of your nails smoother.
Step 7: Take a good amount of moisturiser and apply it on your hands. Massage until the cream completely gets soaked in your skin.
Step 8: Now, apply a base coat on your nails. Apply your favourite colour after the base coat dries out. Coat it with clear topcoat.
You are done with your hands. The process remains same in pedicure but you add a small amount of hydrogen peroxide along with the shampoo. Hydrogen peroxide is easily available at any drugstore.
Image: Getty
Read more articles in Beauty and Personal Care.
For more such stories, Download Onlymyhealth App.