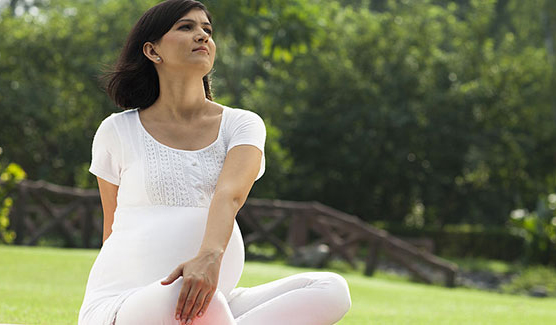 Apart from the health and well-being of the child in the womb, maximum would-be mothers have another major fear — going out of shape. But don't worry, there's help at hand: Prenatal yoga.
Prenatal yoga is the best to stay fit and in shape during pregnancy. It does not make a difference if you are new to yoga, prenatal yoga prepares you for the birthing process, as well as gives the company of other would-be-mothers.
Yoga not only keeps a pregnant woman healthy but also helps to bond with the baby in the womb. The classes are interactive and help would-be parents to acquire the confidence to make the whole experience a positive one.
According to Dr Shalinta Tyagi, director, Mom's Paradise in DLF I, Gurgaon, "During pregnancy, due to the effect of relaxing hormone, the joints become more relaxed and certain asanas and breathing techniques are to be done according to the pregnancy trimester. One has to keep in mind that no exercise should be started without the supervision of any expert."
Importance of prenatal yoga
Yoga during pregnancy helps foetus to develop healthily. This is because the various stretching postures make comfortable space for the foetus. "The breathing exercises ensure complete oxygen flow in the foetus. It also prepares the mother's body for the labour process by strengthening and toning the muscles. Pregnancy yoga also helps the mother to become more aware of the bodily requirements and changes, which may be pleasant or unpleasant," says Swami Anand, yoga expert teacher.
Prenatal yoga is important because pregnancy can be stressful for the mind and body. Because of the irregular hormonal patterns, women complain of mood swings. This can do a lot of harm not only to the mother, but also the foetus. Apart from the postures, one is taught various breathing techniques to relax the mind under all circumstances.
Precautions
Women should avoid pre-natal yoga exercises that stretch their body, especially the abdominal muscles too much. Pregnant women must pay attention to the messages their body gives. For example, if a particular posture results in discomfort, stop immediately. The most important of all, one should remember not to compress their abdomen.
The various prenatal yoga positions help the pregnant mother to get rid of common backache problems.
Dos and Don'ts
Do not sit in one position for more than 20 minutes.
After the completion of fourth month, do not lie on your back for more than 10 minutes.
Do try to exercise four times a week.
Walk for at least 20 minutes every day.
Always turn to your side before getting out of bed.
Drink plenty of fluids while exercising.
Do not exercise in fever or hot humid weather.
Do not overstretch during exercises.
Image source: Getty