Yoga is accepted far and wide across the ages and boasts a number of health benefits. From strength and flexibility to relaxation and rejuvenation to disease management, yoga has something for everyone. Your elders may have been telling about its benefits for years, you  have friends who share thier stories about how yoga has helped them with a particular disease or just to help them stay fit, but now we have scientific proof that the reach of yoga might be greater than that. A recent study published in Frontiers in Immunology suggests that mindfulness practices like yoga and meditation might be able to alter the genes for good.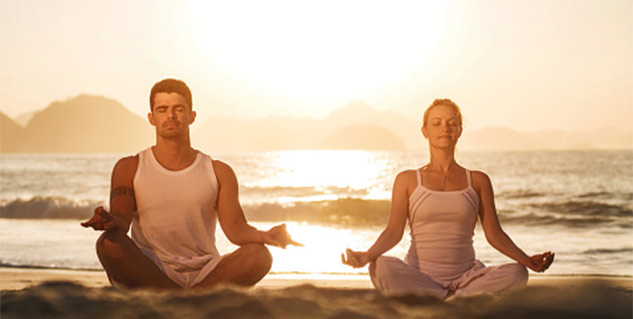 The paper contains a comprehensive analysis of 18 previously published studies pertaining to the same subject matter. The authors agree that techniques such as yoga and meditation can have an effect at the molecular level in our bodies. Regular practice of meditation and other related practices can help suppress the genes and genetic pathways that cause inflammation in our bodies.
This new health benefit of yoga and meditation is great news, since every day new studies are coming up showing a link between horrible diseases and inflammation in human body. Besides, the stressful life people lead today affects the inflammatory response of their body, resulting in impaired physical and mental health.
But, researchers are claiming that people who practiced yoga and meditation on regular basis had been able to reduce the signs of inflammation, including a decrease in their production of inflammatory proteins. As per the researchers, this is a clear indication that molecular signature of the effects of chronic stress can be reversed, hence you can actually cut down your risk of inflammation-related diseases and conditions by making yoga and meditation an integral part of your lifestyle.
As people have become more aware and pay more attention to their well-being, it won't be wrong to assume that most people understand that environment we live in or lifestyle we lead, have impact on our genes and real effects on disease risk, longevity and even the traits that get passed on to the future generations. Stressful events are harmful for our body, they can activate the fight-or-flight response and trigger  a chain of stress-related changes in the body, including activating specific genes that are responsible for making proteins that stimulate inflammation. So, the most important to key to healthy living is to have a stress-free life.
The lead author Ivana Buric, a PhD student in Coventry University's Brain, Belief and Behaviour Lab in England, says it was surprising to see that all these mind-body relaxing techniques had alike effects at the genetic level. The regular practice of these techniques can reduces stress, thus, the activity of genes involved in inflammation. 
If you've been skipping your yoga sessions, we hope this will motivate you to incorporate yoga and meditation into your daily life.
Image: Getty
Read more articles on Yoga.