As if Lara Dutta's crown wasn't heavy enough already-Miss India, Miss Universe, Bollywood star-she's gone ahead and added another feather, err jewel to it with the release of her latest fitness DVD called 'Heal.' Is she just following the new career-enhancing trend in Bollywood after Shilpa Shetty and Bipasha Basu? No, she says. It's her way of 'giving back' to her fans. "After Blue (the movie best remembered for Lara's swimsuit and some sharks), I received a lot of messages from fans asking me questions on how I maintained a toned body. This series is my attempt to answer that question by sharing my workouts, diet and fitness tips, which I have gathered over the past eight years!"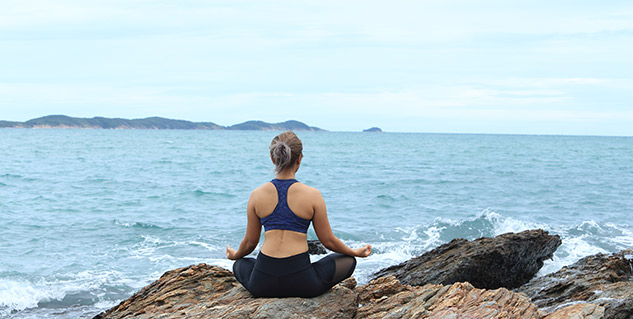 All this sounds good, but is she qualified enough to dole out (let alone sell) fitness tips to the masses? Her answer is an honest no. "I don't have certifications and I am not a qualified trainer. And I'm not portraying myself as one either. Every exercise or piece of advice endorsed by me in this DVD has been put in place after thorough consultation with some of the best yoga experts, fitness trainers and nutritionists in the world coupled with my own personal experiences." 
But why yoga, we ask! Hasn't Shilpa done that already? "Why not," retorts Lara. "It's what I call a holistic approach to fitness and it can fit in with any lifestyle. All you need is a mat and some time to spare. And unlike ridiculously expensive gym memberships, you can do it anywhere, anytime, at a fraction of the cost." Case closed. After all, how could we argue with someone who was the first Indian woman to win the best body award in an international pageant? Up ahead, Lara tells us why she thinks a healthy man is sexier than someone supporting six-pack abs with zero stamina. 
On whether yoga is just for old people or the injured 
The belief that yoga is for the old and injured, who can't visit gyms, is very unidimensional. I don't even buy the common belief that it's for women more than men. Just look at the West. A-list celebrities like Madonna and Sting are ardent followers of yoga. Even in India, both men and women are taking yoga seriously and its popularity is slowly creeping into the masses. And with the sheer variety of forms-Power yoga, Ashtanga, Bikram etc, there is something for everyone. 
On great physiques
Our definition of a great body is quite skewed. I know a lot of guys who have amazingly toned and ripped bodies, but have zero strength and stamina. The myth that yoga doesn't tone our bodies has to be busted. Some of the strongest men I know practice yoga and they are toned. For me, gym routines are nothing but fluff. 
On over exposure
The West is taking our indigenous concept and cashing in on it. And it's a good thing. They have taken yoga and applied science and shown the world that this stuff really works. And thanks to their efforts, we are able to answer the whys and hows. But having said that, the soul of yoga still lies here in India. And it's time we do something about it. 
On yoga and muscle-building
Weight training, in addition to yoga, is very much a part of my routine. My workout routine has three weight training sessions a week. We can't ignore the benefits of strength training to get in shape, but here too yoga fits in perfectly, as it helps you develop muscles faster. With yoga, you lengthen and shorten your muscles to its maximum capacity and that helps develop a wider range of motion. Plus, yoga also expands your lungs and helps you take in more oxygen, which takes your stamina to another level. 
On who's the more attractive guy: the yoga buff or the gym rat
On a pure vanity level, the gym guy will trump over the yoga guy in terms of impressing the ladies. But on a realistic level, the scenario can change. Let us suppose that I am in a relationship with a guy. For me, his health would be more appealing than just a fantastic looking body. An Adonis's figure is impressive and sexy, but a guy with a little more that just six-pack abs is definitely more attractive. 
On the fringe benefits
Yoga is a holistic approach to fitness with flexibility just covering one aspect of it. Peace of mind, balance, energy, virility, happiness, confi dence are some of the bonuses that you can enjoy with yoga. 
On the meditative aspect
People say yoga is meditative, but personally, I would not stretch it that far. For me, deep-sea diving is meditative. When I am underwater, I am at peace with myself, plus it's a great workout. An hour's session of diving can burn anything between 500 to 800 calories. But to each his own. Anything that allows you to focus on the breath can be meditative. It could be running, cycling, swimming, lifting weights. You just have to be aware of how you are breathing. 
On making the right lifestyle choices
Discipline is most important. It's a known fact that yoga can be quite frustrating, especially for beginners. But the solution is patience and practice. All you muscles head MH readers, listen up. Yoga is not easy. You have to spend one hour on a mat to gauge how difficult it is. And like any other form of exercise, it needs to be supplemented with good diet, rest, supplementation and plenty of water, because at the end of the day, I still believe that you are what you eat.
Image: Shutterstock