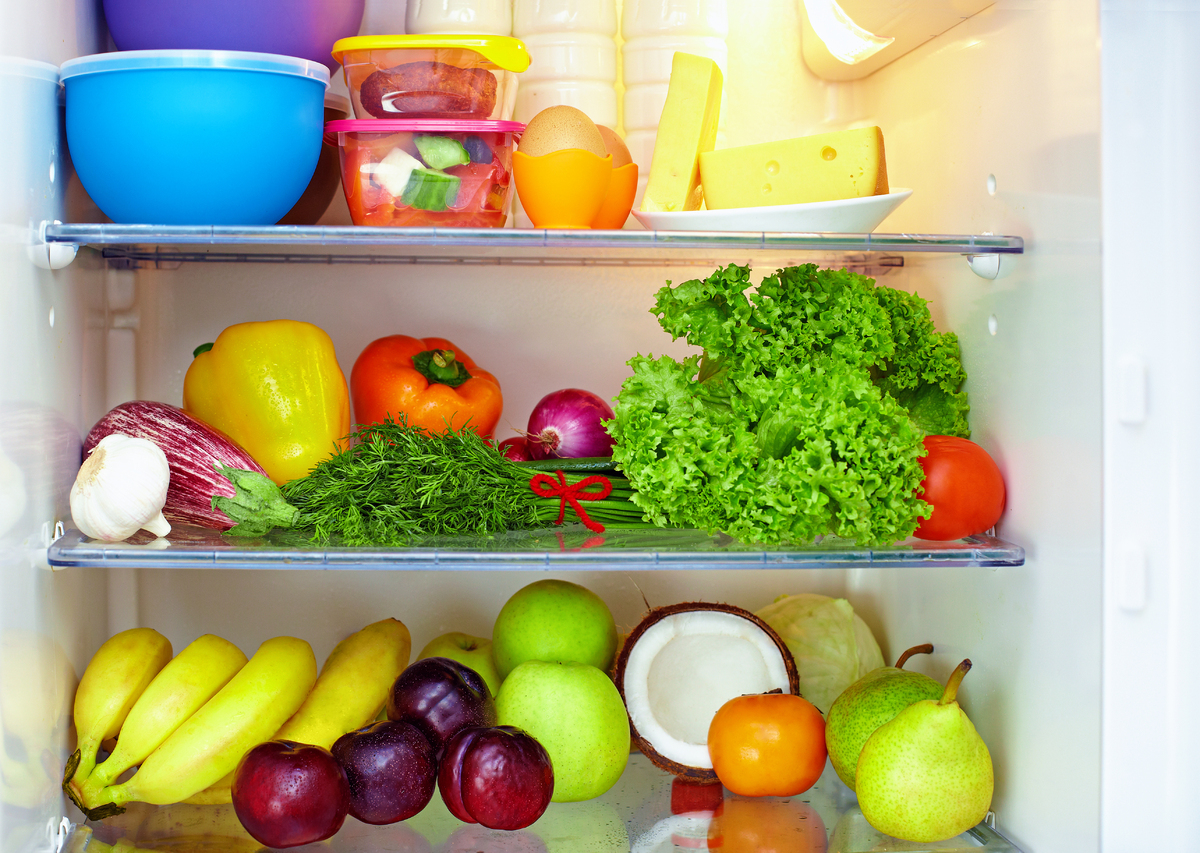 Millions of food poisoning cases occur each year, and millions more go unrecognised because they are mis-diagonisd – or unreported. The symptoms include: vomiting, diarrhoea and pain in the abdomen.
Most of us can handle a little food poisoning without major upset, but there are a number of high-risk groups for whom it can be very dangerous, even fatal. These groups include the elderly, infants, pregnant women and the chronically ill, especially those with weakend immune systems. There are also certain types of food poisoning like (botulism) that can be deadly for just about anyone.
WHAT CAUSES FOOD POISONING?
Most food poisoning occurs because food was handled improperly at home, often during routine procedures that we all take for granted.(Other stages at which germs and toxins might enter food are during cultivation and storage).
There are four main culprits:
Bacteria: These are responsible for more than two-thirds of food poisoning episodes. The important germs in this category are Salmonella, Staphylococci Clostrdia and Bacillus Cereus. The food we eat, no matter how hygienically prepared, almost always contains a few bacteria. However, a small number does not cause illness: at a rough estimate, about one million bacteria must be present before a healthy adult will come to harm. However, in case of children under one year, or in case of old or sick persons, only one lakh bacteria bring on illness.
Viruses: These are the simplest living organisms containing only genetic material. Viruses require living tissues for their growth and multiplication, therefore will not multiply in food. However, food can serve as a transport vehicle for viruses. Since viruses are destroyed by temperatures achieved in normal cooking, food poisoning by viruses occurs largely in food which has not been cooked or has been handled after cooking by a person who is a carrier of viruses.
Chemicals: Common chemicals which produce food poisoning are pesticides, detergents, paraffin, food additives, sterilizing agents and packing materials. Food poisoning from chemicals is mostly caused by carelessness in the home or in an industrial establishment.
Try to avoid buying attractive and highly-coloured foods as these contain several addictives which way harmful. Carefully read the manufacturer's information/instructions regarding contents, use and storage.
Aoid the use of packaged wheat-flour. Instead, buy whole-wheat from the market, clean it with plenty of water, dry it and have it ground at a floor mill.
Vegetables: Certain naturally poisonous plants, when accidentally mixed in with vegetables, cause food posioning. Among these are toadstool (confused with mushroom), hemlock, black nightshade, rhubarb leaves and undercooked red kidney beans. The toxins of most plants are unaffected by cooking.
HOW GERMS GAIN ACCESS TO THE KITCHEN
The main entry points are:
Food Handlers: Usually these are carriers (persons carrying the germs in their body but not suffering from the disease itself). They may be convalescents, i.e. people who have recently suffered food poisoning and who, though recovered, continue to pass a small number of these germs in the faeces; these may gain access to food due to improper washing of hands and poor general hygiene.
Carriers may also be healthy people who have not suffered the symptoms of food poisoning but nevertheless carry harmful germs in their intestines. Again, the medium of instruction is faeces.
Animals, birds and Insects: Flies, rats, birds, other insects and animals (incluing pets) usually carry bacteria in their intestines and on their feet and fur. These animals are infected through eating contaminated feeds, grazing on contaminated pasture land or through contact with other (infected) animals.
Food and food products: When animals are slaughtered and dressed, germs from the surroundings and from the hands of the handlers may contaminate the surface of the meat where they grow and multiply.
Dust: Vegetables are usually contaminated with dust which may contain bacterial spores. Spores are the unique feature of some (not all) bacteria. When growth and multiplication of bacteria is not possible due to an unfavourable environment, the bacterial cells form spores (small, reproductive cells) and the remaining part of the germs disintegrates. These spores are resistant to even boiling and freezing, can survive for years without food or water and, in faourable circumstances, are capable of reverting to the original, infective form – to grow again and multiple.
Raw vegetables should be first rinsed in plenty of water and then dipped in a very weak solution of potassium permanganate (about of grams in 1 litre of water), for 5 minutes, and then washed again thoroughly with clean water. Potassium permanganate removes the surface dirt, spores and germs.
Cross-contamination: This is the transmission of germs from a contaminated source to uncontaminated food (usually freshly cooked food). If this food is suitable for bacterial growth and is left for some time in a warm room, the transferred organisms multiply rapidly. Some examples of this process in a kitchen are:
Using a chopping board, a work surface or kitchen equipment in the preparation of two different foods without washing it in between, eg using a mincer for raw meet and then for cooked corned beef. The same principle holds true for the hands of the cook.
Sneezing, coughing, smoking, scratching around the genitals or the anus while in the kitchen and not washing hand thereafter.
Wearing highly engraved jewellery while preparing food. The crevices offer a foothold for germs which may then be transferred to the food.
By combining hair in the kitchen or from loose strands of hair.
From skin infections, especially of the hands (boils, furuncles, wounds etc.) in the cook.
From the crevices of craked/chipped plates and damaged utensils.
Through unhygienic food tasting, eg, dipping a finger in prepared food without washing, then licking it and again dipping it in another prepared for unprepared food, without washing in between.
By touching dirty linen, wash-cloths, dusters, etc. while preparing/handling food.
By incorrect placement of food in the refrigerator. For example, keeping uncooked meat on the top shelf, and uncovered, roasted chicken on the shelf below: Blood from the uncooked meat may drip on to the chicken and contaminate it. In the low temperature inside the fridge, these germs remain dormant, but once the food is warmed for serving or even thawed out at room temperature, the germs multiply rapidly.
HOW GERMS GROW IN FOOD
Germs thrive best when four conditions are optimum:
Temperature: Bacteria that cause food poisoning grow and multiply fastest at the temperature of the human body (37° C). Above and below the temperature, the rate of growth decreases, but still fairly rapid at about 30° C – which would be the room temperature in a poorly-ventilated kitchen during summers.
At the temperature of boiling water, i.e. 100° C, bacteria are killed in one or two minutes (though spores are not).
At low temperatures, such as in a fridge, they become dormant, but start multiplying again once the food is removed for thawing or warming.
The Type of Food: Germs multiply rapidly in those foods which have a high protein and moisture content, such as meat, poultry, dairy products, gravies and sauces. Protein and moisture provide "nutrition" to bacteria and act as very good culture media. (In the laboratory, most bacteria are grown over a blood or egg-containing medium.)
Moisture: Dehydrated products, such as milk powders, do not allow the growth of bacteria, but the bacteria remain dormant until the powders are reconstituted. So, reconstituted powder milk,eg, must be stored in the refrigerator as soon as water is added to it.
The Time Factor: If conditions are conducive, bacteria divide into two, every twenty minutes. Therefore, the longer food is allowed to stay in conditions optimum from bacterial growth, the greater the extent to contamination.
HOW TO PREVENT FOOD POISONING?
The ground rule is to maintain regorous hygiene at all the points at which food is handled:
Personal hygiene of the food-handler
Germs cling to the skin surface and persist in hair follicles, in skin pores, or in crevices and lesions caused by breaks in the skin. The hands should be washed with plenty of soap and water, preferably warm. A disinfectant solution may also be used, as an added precaution.
Nails should be short, unchipped and, preferably, unvarnished (if varnished, the varnish should not be chipped.)
Wet hands contain more bacteria than dry hands. Use clean towels to dry them. If you can afford an electrically-operated hand drier, that's even more hygienic.
The food handler should remove all jewellery from his/her hands.
If any cut,wound or boil is present on the hand, a coloured waterproof dressing should be apllied over it so that if it accidentally falls off into the food, it can be easily noticed and the food discarded.
It is very important to wash hands after a trip to the toilet, blowing your nose, handling raw meat, poultry or contaminated food, etc.
The food handler should not smoke in the kitchen and should sneeze or cough into a tissue which should then be discarded.
Cover hair under a cap or net.
Clothes should be clean and should cover exposed areas of the body as far as possible. Long sleeves should be rolled up or securely fastened at the wrists so that cuffs do not dip into the food.
Always waer full-length apron.
During illness, the nasal and throat carriage of bacteria is increased, so sick persons and those who have suffered from food poisoning, diarrhoea and vomiting in the recent past (even if they are apparently healthy now) should not be allowed into the kitchen.
Hygiene in the Preparation, Cooking and Storage of food
Thaw all frozen foods completely before cooking. If you do not, the ice crystals at the centre of the food prevent the temperature that reaches the centre at the time of cooking from being sufficiently high to kill the bacteria there; at the same time, this temperature level will be optimum for bacterial multiplication!
Food should not be repeatedly frozen, thawed and re-frozen. Each time it thaws, it reaches a temperature that's conducive to bacterial growth.
Cook food thoroughly at one go. Never do it in two stages – bacteria remain alive in partially-cooked foods and on cooling they multiply and survive right through the next phase of partial cooking.
Never keep the food warm (as in casseroles) because these provide the optimum temperature for bacterial multiplication.
Never re-heat the food more than once. Again, bacteria get a chance to multiply when the food has gone from 'hot' to 'warm'. If re-heating is absolutely necessary, the food should be covered and cooled very rapidly after cooking and stored in the refrigerator until it is ready to be re-heated. To speed cooling, divide up the food into several containers or cut up big chunks into smaller pieces.
Quick, high temperature cooking is the best. The traditional practice of slow cooking in open pots increases the risk of food poisoning.
As eggs, especially duck's eggs, are a known risk for salmonella poisoning, lightly cooked uncooked dishes such as scrambled eggs, omelette and poached eggs should preferably be avoided. Safer options are hard-boiled eggs (boiled for at least ten minutes), eggs fried well on both sides or eggs used in baked products such as cakes and puddings, which require cooking temperatures high enough to destroy the germs.
Cook foods to the proper temperatures. Meat should be cooked at least 160° degrees. Red meat is thoroughly cooked when it is brown or gray inside. Poultry is done when the juices become clear. Fish, which cooks very quickly, flakes easily with a fork when it is done.
Serve food as soon as possible after cooking. Don't let it sit out for more than two hours at room temperature. If you are serving buffet-style, keep cold food on ice, hot food over warmers. Put out only small portions at a time so that the remainder can stay hot or cold in the kitchen until needed.
As far as possible, avoid buying prepared foods because you have no guarantee of the hygiene maintained in the preparation of such foods. If you must buy such goods, prefer frozen foods to warm foods, since they provide less opportunity for bacterial multiplication.
Don't buy food in damage containers. Avoid cans and glass jars that have dents cracks or bulging lids. A damaged container may allow bacteria to get inside and multiple.
Use highly acidic canned foods, such as tomato and apple products, within 12 to 18 months. Other canned goods, such as canned meat, poultry, stews, pasta products, potatoes and peas can be stored longer (from two to five years).
There are several reasons for this. First, when acidic foodstuffs are packed in metal containers, the acid dissolves the metal which is absorbed into the contents of the tin/can, affecting their flavour and texture, thus causing spoilage.
The acid itself also softens the preserved food, again damaging its texture – "spoilage".
Finally, meats and other hardy foods like pasta and potatoes preserve better because, at the time of processing, it is possible for them to withstands the duration and kind of temperature required for virtually complete sterilization – 121° C, for 20 minutes at 15 pounds of steam pressure. However, succulent foods like apples, tomatoes and mangoes cannot withstand such processing without having their flavour and texture altered. So, they are heated at a lower temperature, under less pressure, for longer time. Because of the incomplete sterilization, the chances of spoilage in such foods are comparatively higher.
Preferably, all canned food should be stored in the refrigerator – especially if you intend to use it over a prolonged period. In any case, don't use it beyond the expiry date. All opened canned food should be stored as freshly cooked-food.
Do not put hot foods directly into the fridge. Apart from damaging the cooling coils, this can encourage the growth of certain germs and moulds.
The refrigerator door should be kept shut as far as possible; the fridge should also be regularly defrosted to remove excess ice around the cooling coils which decreases is efficiency.
Hygiene in The Kitchen
A sterile kitchen would be a mere fantasy. However, proper design and maintenance can go a long way in ensuring a clean and hygienic cooking environment and significantly reducing the risks of food poisoning:
The kitchen should be spacious enough to allow easy and thorough cleaning. Equipment should be moveable or, in the case of fridges, for example, should be placed where it is possible to clean its back, sides and under-surface.
The areas of preparation, cooking and washing up should be well separated to lessen the chances of cross-contamination.
The kitchen should be provided with a large window and ventilator, if possible with exhaust fan.
The window should be covered with thin wire mesh to prevent the entry of house-flies and other pests.
The cutting/chopping board should be made from hard-wearing, easily cleaned material which does not absorb moisture, chip or crack and is not affected by food residues. Stainless steel is the best choice, better than even plastic laminates which, of however superior quality, are still susceptible to scratches from knife blades etc. However, even today, far too many kitchens use wooden boards, which easily develop cracks and crevices, enabling germs to thrive.
Every kitchen should have a round-cornered dustbin, preferably with paddle-operated lid, and it should never be allowed to overflow.
Kitchen floors should be made of a hard-wearing, anti-slip, easily-cleaned material which is unaffected by moisture, and resistant to salt and fruit acids. Unbroken, smooth quarry tiles are a good choice.
The ceiling should have a smooth finish to facilitate cleaning (an absorbent plaster with washable emulation). Walls should be smooth and light-coloured to make dirt easily traceable.
Pick up knives, forks and spoons by their handles, glasses by their stems and plates by their edges. Discard any chipped plate or glass and any damaged utensils because even efficient washing may not get rid of the germs harboured in crevices and cracks.
Rat and mice carry bacteria in their fur, feet and faeces. Since they breed in warm and dark corners, the kitchen premises should be kept in good repair with no holes, or defective pipes or drains. Store-rooms for storage areas should be cleaned regularly. All the stocks must be kept off the ground and used in rotation to ensure that rats and mice are not been sheltered at the back of the store-room. If you do have a rodent problem, get rid of the pests with a mousetrap or a mild rodenticide.
Flies are the commonest carrier of food-poisoning bacteria. Reduce the risks by covering windows and ventilators with fine wire mesh, using covered dustbins and, if necessary, an insecticidal spray.
Cockroaches typically hide behind ovens and cooking ranges, water pipes, and refrigerators. They can be killed by most available insecticides.
Article Source: http://EzineArticles.com/9527709