Kiwis may be smaller in size but they are loaded with compounds that are good for your skin. For the same reason, the fruit is being used in many skin care products.  It has essential vitamins and antioxidants that fight off free radicals in the skin quite effectively, delaying the signs of ageing along with unclogging the pores.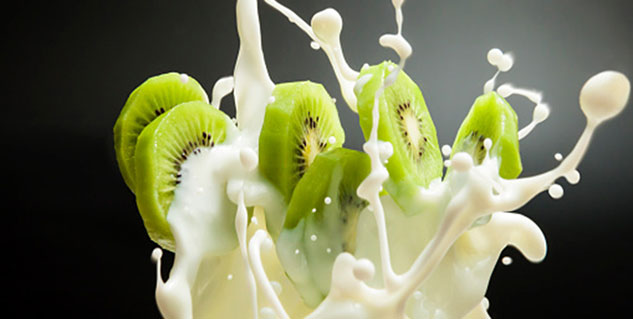 So, instead of drilling holes in your wallet by spending money on expensive creams, lotions and face packs, go ahead and incorporate kiwi in your beauty regimen to get rid of all your skin problems in not just the most inexpensive but also the natural way possible.
Below are some homemade face masks prepared using kiwi and other skin-friendly ingredients
Homemade face mask with kiwi and yogurt
Nothing could beat the goodness of kiwi when it is combined with yogurt, as this combination can help improve the overall texture of your skin.

How to prepare it
Take a kiwi and cut it. Remove a teaspoon of kiwi pulp and mix it well with a tablespoon of yogurt. Now apply this mixture on your face and leave it for 15- 20 minutes. Later wash it off with lukewarm water. For soft and supple skin, use this face pack once a month.
Homemade face mask with kiwi and lemon juice
If you want to enhance your complexion, you should try homemade face mask prepared by kiwi as it has vitamins in it and lemon juice as it has natural skin-bleaching compounds.
How to prepare it
Take a ripe kiwi and blend it in a blender. Now a take a teaspoon of the kiwi paste and mix it with a teaspoon of lemon juice. Gently apply this mask on your face and let it dry for 10 minutes. Later, wash it off with lukewarm water.
Homemade mask with Kiwi, Gram Flour and almond oil
Face mask prepared with above mentioned ingredients is great to combat acne and scars as all the ingredients contain antibacterial properties that can treat your acne problems.
 
How to prepare it
Take a teaspoon of kiwi pulp and mix it with 4 drops of almond oil and half a teaspoon of gram flour. Gently smear the mask all over your face and keep it there for 15 minutes, prior to rinsing off with lukewarm water.
Image source : Getty
Read more articles on Skin Care
For more such stories, Download Onlymyhealth app