No one can escape the wrath of summers and the worst part is 'suntan snafus'! Feet can be called as the most neglected body part because hardly we take care of them. Yes, many of us are regular salon forayer, and get our required manicure and pedicure sittings done time to time but the kind of weather this is, even pedicure sessions fail to cure the damage.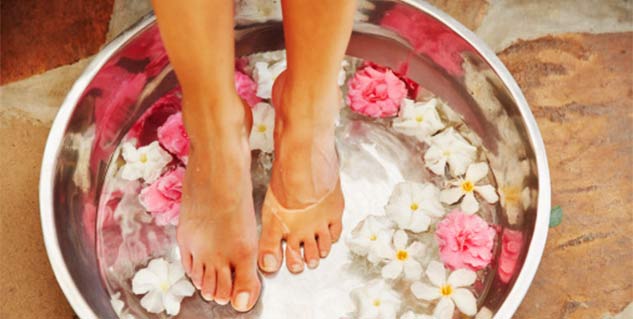 Moreover, your feet are always on display and go through a lot. Dust, sun, sweat and many more other things in summers make your pedicure sessions go in vain. If you wish to take good care of your feet in summers and wish them to look their best all the time, read on!
Exfoliation is important
Exfoliation is very important part of beauty regimen but then not many of us exfoliate our feet and we are not talking about just a scrub that you give your feet while taking a shower. Here we are talking about de-tanning exfoliation, skin rejuvenating exfoliation.
Here is one simple foot scrub recipe is here that you can try out for de-tanning and skin rejuvenation.
Take two spoonful of granulated sugar, mix it in two spoon of olive oil. Now, scrub your feet with it. You can do it twice a week.
[Watch: How to remove tan from hands and feet]
Do not soak them longer
You must not soak them for longer; it will only dry them further as soaking feet for longer time will strip your feet off the natural body oil.
Make use of a pumice stone regularly
You must make use of pumice stone regularly or on alternate days on your heel to scrub off callouses. Be gentle on the soft part of the feet, if you have rough heels, regularly usage of pumice stone can help you out.
Do not wear shoes without socks
If you wear sneakers or other enclosed shoes, you must wear socks to avoid sweating. Put some talcum powder in the socks before putting them on.
Moisturise them well
This is the part that we mostly overlook. We do not moisturise our feet while moisturising is an important part of feet care. After washing your feet, daily moisturise your feet with good amount of moisturiser before going to bed, to have soft and supple feet skin. You can use any moisturiser.
Do not forget the sunscreen
When stepping out in sun, do not forget to put on sunscreen cream. Sunrays can cause suntan. So, it is better either to cover your feet or use a sunscreen lotion.
Image source : Getty
Read more article on Beauty and Personal Care.

For more such stories, Download Onlymyhealth app