Appearance of pimples and zits is involuntary because they can appear any time without any prior intimation. Jokes apart, pimples can be caused due to several factors like diet, skin care regimen, and lifestyle, environmental and climatic conditions and so on.  Although, no matter where you get a pimple it will always look bad but I think forehead is the worst place to get a pimple as it is not easily concealable and can ruin your entire hairdo and makeup.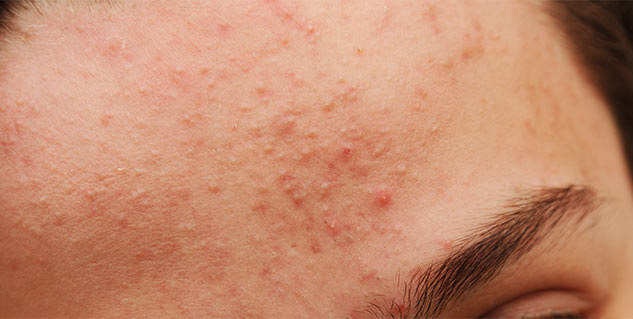 If you too have pimple and acne on your forehead, you can try out these simple and easy home remedies to get rid of the bumps.
A clean scalp
As suggested by experts, the bumps on your forehead are caused by dandruff in your scalp. So, if you get rid of the dandruff you can get cure the bumps on your forehead. You can use a mild anti-dandruff shampoo.
Oily skin
Oily skin can be the biggest cause of bumps on forehead as forehead falls in the deadly oily T-zone. So do something about the clogged pores and excess oil on your skin.
For oily skin
Take some multani mitti and add some rose water, and apply to your face. This will not only help you get rid of excess oil from your face. Doing it twice a week is enough to balance the oil.
Or you can wash your face regularly with some cold water, with some rose water added in it to reduce the oil from your face.
Lemon juice
Take some lemon juice and dab on the zits with a cotton ball before going to bed. The lemon will work at night and you won't have to step out in sun with lemon on your face as it can lemon can react on your skin in sunlight. Wash off in the morning.
Tomato juice
Rich in antioxidants, the tomato juice can cure the pimples and acnes. Just extract the juice and apply on your face. Wash off with some cold water splashes in 15 minutes. But see if your skin is not sensitive to tomatoes.
Apple cider vinegar
Some apple cider vinegar will work same as lemon or tomato juice. Take a cotton ball and dab some apple vinegar on the zits before going to bed, regular use of apple cider vinegar will cure the zits.
Note
Sometimes the bumps could be because of some medication you are taking. Yes, allergic reactions can be one of the many factors behind the bumps, so consult a dermatologist before going for any home remedies.
Image: Getty
Read more on Skin Care
/* Style Definitions */
table.MsoNormalTable
{mso-style-name:"Table Normal";
mso-tstyle-rowband-size:0;
mso-tstyle-colband-size:0;
mso-style-noshow:yes;
mso-style-priority:99;
mso-style-qformat:yes;
mso-style-parent:"";
mso-padding-alt:0in 5.4pt 0in 5.4pt;
mso-para-margin:0in;
mso-para-margin-bottom:.0001pt;
mso-pagination:widow-orphan;
font-size:11.0pt;
mso-bidi-font-size:10.0pt;
font-family:"Calibri","sans-serif";
mso-ascii-font-family:Calibri;
mso-ascii-theme-font:minor-latin;
mso-fareast-font-family:"Times New Roman";
mso-fareast-theme-font:minor-fareast;
mso-hansi-font-family:Calibri;
mso-hansi-theme-font:minor-latin;
mso-bidi-font-family:Mangal;
mso-bidi-theme-font:minor-bidi;}