Eating ice cream does not help in weight loss, however, you can avoid weight gain and the unwanted stomach flab without even limiting licking your favourite ice cream. Find out how.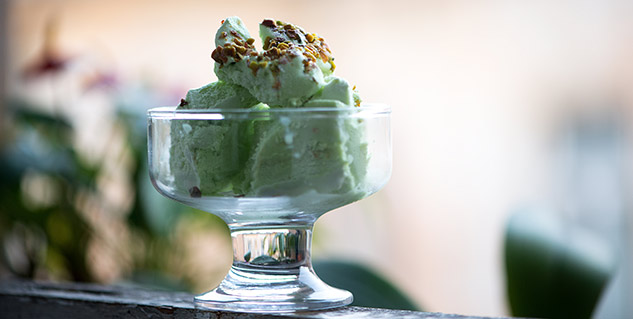 Ingredients
Have you ever given a thought to the ingredients in an ice cream? As a matter of fact, the basic contents of ice cream are milk, natural or artificial flavourings and sweeteners, but do you know that even air is used to create ice cream along with the other ingredients? The density of air is thinner in less premium ice creams than in the premium ones. An ice cream containing less air will be high in calories. Ice creams manufactured with whole-fat milk cream are significantly calorie dense than those made low low-fat cream implying that the latter has fewer calories per serving.
Caloric content of ice creams
The caloric content of ice cream varies from brand to brand and flavour to flavour. Per serving of vanilla ice cream provides 222 calories and that of chocolate gives 254 calories. According to the U.S. Department of Agriculture database, standard vanilla and chocolate ice creams are inclusive of 273 and 377 calories per serving, respectively. Ironically, the fat-free ice creams contain 200 calories per cup serving.
Nutrients in ice creams
Protein and Calcium in Ice Cream: A cup of vanilla ice cream includes about 5g of protein and meets about 15 percent of an adult's calcium requirements. Other than calcium and protein, ice cream contains another beneficial nutrition: potassium.
Fats in Ice Cream: Except the fat-free ice creams, light and regular ice creams have fats. For instance, a regular vanilla cup includes 15 g of fat whereas a light vanilla ice cream cup has 5g of fat. Light ice creams have almost two-thirds less fat than the regular ones.
How to avoid weight gain by eating ice cream?
Rather than emptying the ice cream tray in your freezer to lose weight or not put on additional weight, you can learn how to include ice cream in your diet plan without causing unwanted weight gain. Here are tips to lose weight while still eating ice cream:
Do not binge on ice cream due to emotional turmoil. Control yourself from gorging excessively on ice cream triggered by emotional stress.
Ask your nutritionist or dietician the amount of ice cream you can include in your diet without making yourself prone to weight gain.
Always use a measuring cup to portion ice cream per serving.
Choose fat-free ice creams rather than whole-fat milk ice creams to avoid adding pounds to your present weight.
Image: Shutterstock